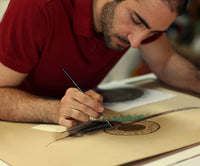 Welcome to my studio!
Combined with modern painting and line drawings, I try to bring the spirit of Persian and Arabic calligraphy to new audiences, transcending cultural traditions and expectations about the interplay of words and images on the surface.
Many of my pieces are inspired by the Baha'i teachings, which explore the mysteries of spiritual and material realms of existence. My purpose for this marriage between Word and art has been to try to portray the meaning of the Words more effectively.
I invite you to browse the gallery, and to connect with me for any questions you may have, or for inquiries about original works.