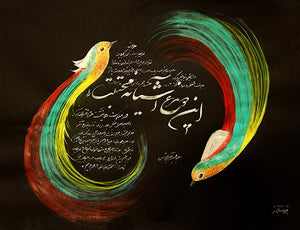 This is a beautiful prayer for marriage in which the husband and wife
are likened to two birds that are bonded together by the love they
have for their Creator.


Translation:

...wed Thou in the heaven of Thy mercy these two birds of
the nest of Thy love, and make them the means of attracting
perpetual grace; that from the union of these two seas of love a
wave of tenderness may surge and cast the pearls of pure and
goodly issue on the shore of life.

- 'Abdu'l-Bahá, Bahá'í Prayers, p. 106


http://reference.bahai.org/en/t/c/BP/bp-87.html


–––––


All prints are produced on high quality, enhanced matte papers. All prints are signed at the back.
Please note that shipping can take up to 2-3 weeks from day of order. For special shipping requests and urgent orders please inquire via the contacts page.