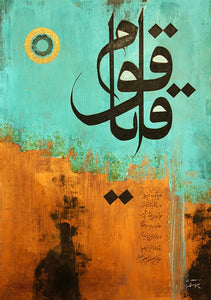 This is an excerpt from a celebrated passage from the Bahá'í Writings, in which the one who seeks after truth is challenged to regard all heavenly 'verses' to be one and the same in essence, as reality is one, and truth can not be divisible.


Translation:
...if ye deny these verses, by what proof have ye believed in God?
Produce it, O assemblage of false ones. Nay, by the One in Whose
hand is my soul, they are not, and never shall be able to do this, even
should they combine to assist one another...

– Bahá'u'lláh, Excerpt from the Tablet of Ahmad

http://reference.bahai.org/en/t/c/BP/bp-173.html

–––––

All prints are produced on high quality, enhanced matte papers. All prints are signed at the back.

Please note that shipping can take up to 2-3 weeks from day of order. For special shipping requests and urgent orders please inquire via the contacts page.